Heroes and Villains
A Fiasco Playset
Heroes and Villains is a Fiasco Playset I wrote for fans of comic book and film super-hero stories. Available to download now!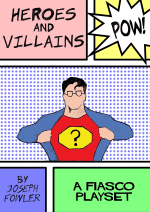 Featuring
Cartoony or gritty stories - you decide!
System for determining Super-powers!
Heroic Aftermath Table!
Exclamation Marks!!!
Own it on DriveThruRPG
Now also available for free on DriveThruRPG!
This playset is an accessory for the Fiasco role-playing game by
Bully Pulpit Games
. Fiasco is copyright 2009 by Jason Morningstar. All rights reserved.
This work is licensed under a Creative Commons Attribution-NonCommercial-ShareAlike 4.0 International License
. See also the
Fiasco Playset License
.